Earlier this year my flat's management company informed residents that stricter recycling rules would be coming into force. Due to residents struggling in the past with contaminating recycling bins, the bin collectors warned us that if it continued, they would refuse to collect our waste goods.
To solve this problem I designed an app concept that would provide a quick and easy way for residents to tell what is and isn't recyclable and which bin it goes into. I wanted to keep the project small in scope so limited my range to the UK, this kept development broad enough to include a wide audience without having to do excessive research on recycling rules in other countries.

The national 'Recycling Tracker Report 2020', conducted by the evidence-based recycling charity, WRAP informed me about the current state of recycling in the UK, I learned that assets provided by the organisation, Recycle Now, 
"…are playing a key role (in increasing recycling in the UK)…For example, over four in five (83%) of those who have used the Recycling Locator in 2020 report increased recycling." This led me to 
use Recycle Now's extensive database of recycling in the UK to inform the app's

contents

and structure.
I created a Google Form for friends, family and neighbours to complete, with the aim of learning more about their recycling attitudes and habits. The common trend was that people felt confused by the lack of clear instructions, and were frustrated by conflicting information.

The research phase revealed 3 clear user personas:

"If people had a way to easily and quickly access local recycling rules 
they would recycle more and recycle better."
•  Inform and instruct a wide user base quickly and easily
•  Be accessible and easy to navigate
•  Give a recycling instructions for each item
•  Create shareable profiles
The app structure allows the user to make multiple location profiles, each of which can have multiple bins, the bins can have multiple items. Inspired by this stacking concept I settled on a visual style that suggested information cards. This design language is introduced in the first screen users interact with and continues throughout.

While designing the colour scheme I used the plugin 'Stark' to ensure the contrast of on-screen text was up to the Web Content Accessibility Guidelines AA level of compliance. Accessibility is one of my primary goals with this app to reach as many people as possible and help them to recycle properly.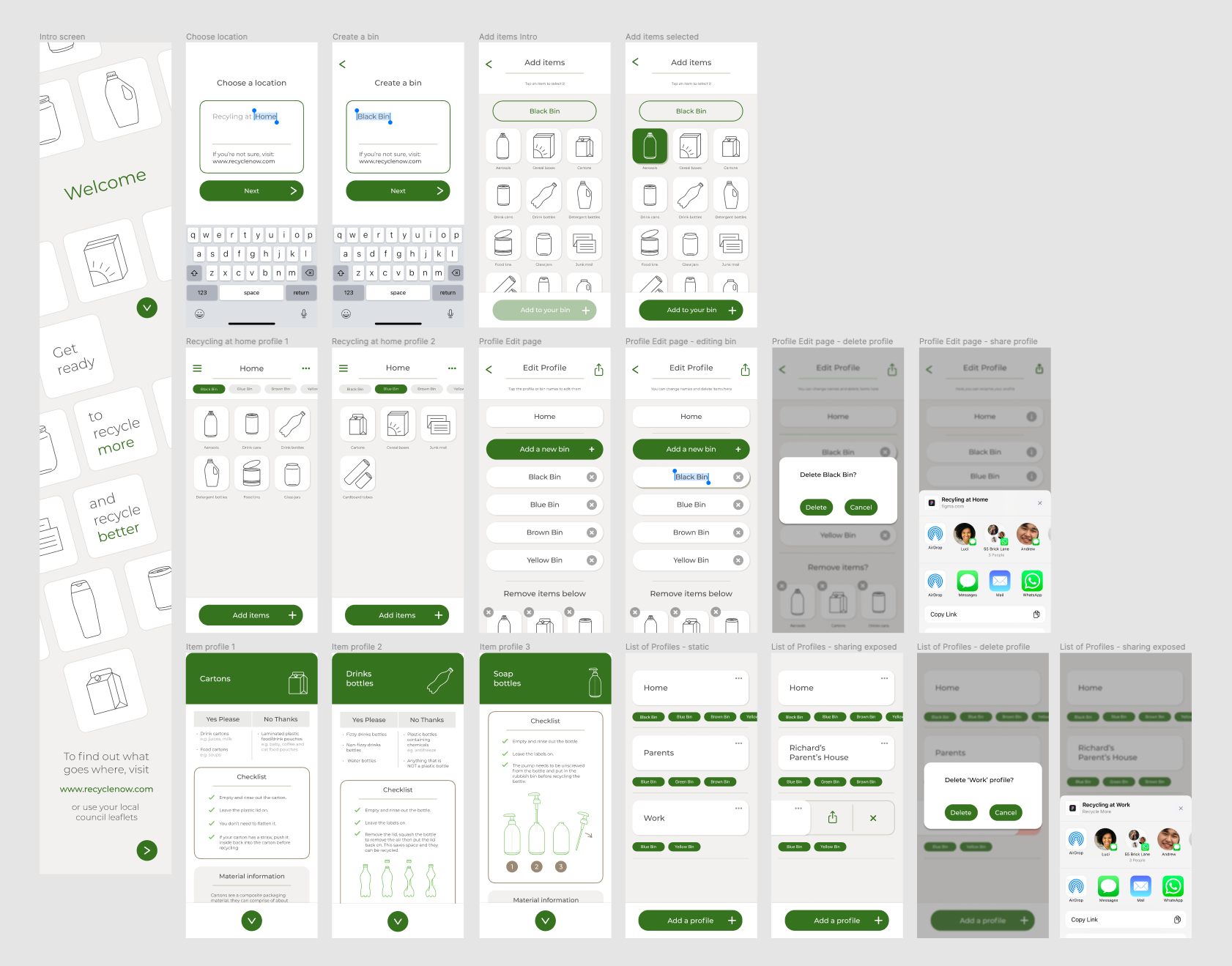 Unfortunately without the app being backed by a web database users have to build their profiles manually. This creates a long onboarding process which will likely cause user drop off. Solving this would likely require a large investment of time and resources, such as partnering with a recycling charity like WRAP who have their own databases.
• The easy to access item cards with their clear sections for informative checklists and illustrations
• The sharing feature enables users to build profiles themselves and share with others quickly
• The iconic representation of recyclable items are recognisable and easy to learn
• The minimal colour palette designed with contrast in mind is acccesible and not overwhelming
Along with the high barrier to entry mentioned above, there would definitely be challenges in taking this app concept to market and of course it would require extensive user testing. However, I have a few ideas for features that I think could add a lot of value:
• Would enable notifications
• User can set recycling collection reminders
• Develop habits of interaction
• Hopefully be helpful to the user, giving the app value